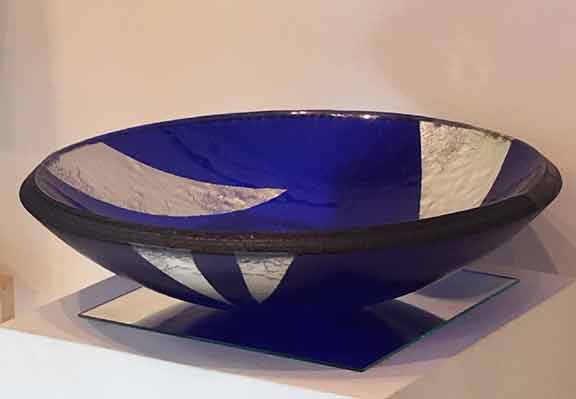 The Glass Table Top
or bird bath....  or even sink without a hole ...  
Saturday, March 25 to Sunday, March 26, plus one more day for coldworking!
Instructors: Brad Walker and Jody Danner Walker
 Everything you need to know to make a thicker pieces, whether they're table tops, sinks, or bird baths.  We'll discuss basic design concepts and several approaches to making thicker pieces.  Students will create two smaller designs to test their ideas, then construct and assemble a larger 1/2" to 3/4" thick table top, bird bath, or hole-less sink (your choice!) using what you learned.   Pieces will be fired in our kilns, then you'll return for a third day of your choosing for one-on-one instruction on coldworking your piece so that it's ready to show off and use. 
In addition to several test pieces and one complete thick piece roughly 17" to 18" in size, we'll also make two smaller pieces using other techniques.  We'll also share options for the furniture required to display the finished piece.
The first two days of the class will be spent fabricating your pieces.  The final day of the class will be for coldworking on a day of your choosing after March 26 (when the large piece comes out of the kiln!)  Just let us know what day works for you and we'll do our best to accommodate your schedule.
Familiarity with glass cutting and with basic fusing and slumping techniques is essential. All materials will be provided.
Class size strictly limited.
Three days     Price: $595
10:00 to 4:00 all three days