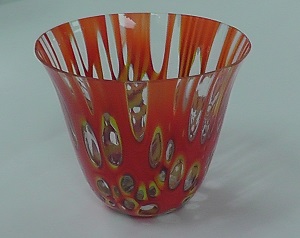 Bubble Up and Drop
Thursday, May 18 to Sunday, May 21, 2017
Instructor: Brad Walker
 Here's a unique take on the drop formed vessel.  We'll start by making bubble ups, in which glass is arranged and fired to create clear areas in a particular pattern. The resulting pieces have a series of round clear areas, spaced either in lines or randomly throughout.  Then we'll use our bubble ups to create blanks to be dropped to form a vessel.
Students will create two different original pieces, using two different kinds of bubble up designs.  You'll also make your own drop molds, which you'll be able to take home after the class.
Familiarity with glass cutting and with basic fusing and slumping techniques is essential. All materials will be provided.
Four days     Price: $550
10:00 to 4:30 first three days, 10:00 to 3:00 last day