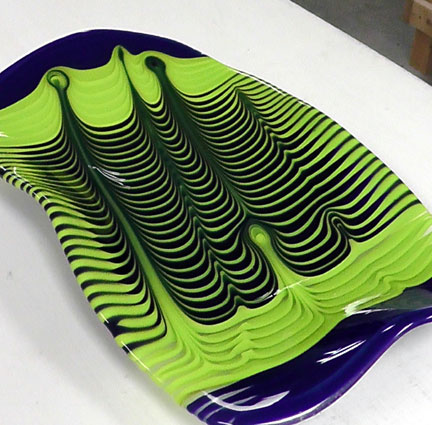 Combing Glass in the Kiln
Saturday, January 27 to Sunday, January 28, 2018
Instructor: Brad Walker
One of the most exciting processes in kilnformed glass is when you reach in the kiln to manipulate hot glass.  Join Brad in a new two-day exploration of the technique of glass combing, using a rod to distort glass patterns in the kiln.  And, as a special bonus, we'll also explore pot melts and wire melts.  It's the complete hot glass experience!
We'll learn several different ways to set up your glass, ranging from basic glass strips to more complicated designs.  We'll cover firing schedules, safety equipment, and tips to make your combing projects both safe and successful.  In addition to creating finished combed pieces, we'll also cover ways to incorporate combed glass into larger fusing projects.  Coldworking and finishing possibilities will be covered.
Each student will get to comb two pieces of their own design.  You'll leave with not only your personal creations but with the knowledge and experience to safely go from combing concept to finished piece.
Familiarity with glass cutting and with basic fusing and slumping techniques is recommended, but not essential. All materials will be provided.
All levels, two days Price: $295
10:00 to 4:30 first day, 10:00 to 3:00 last day