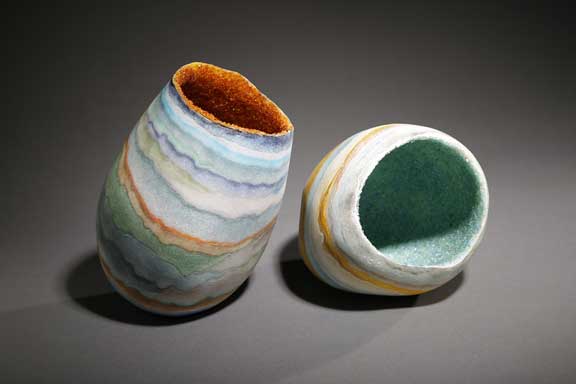 Pate de verre: Particle Expressions: Grains of Light
Wednesday, October 5 to Sunday, October 9, 2016
Visiting Instructor: Alicia Lomné
Pate de verre has been widely interpreted by many different artists. In this class you will learn how to build your own model, and pour an open-faced mould to create thin walled glass forms. Using frit and powder you will learn several different methods of exact color placement, as well as some other fun patterning techniques. We will have in class discussions covering firing schedules and the use of temperature to attain specific goals. We will do projects utilizing at least three different types of firing schedules so you will have a broad base of knowledge to take home. Handouts will be provided of basic notes and all firing schedules used in class. By the end of class you should feel confident in pouring a mold, packing it with glass, and firing it on your own. Pate de verre is a process which encourages patience but also lends its self to experimentation and unusual self expression. Expect to work hard and have fun.
No previous glass experience necessary.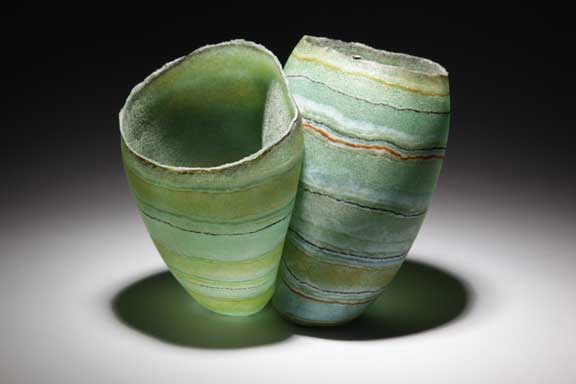 Alicia Lomné is an artist living and working on Whidbey Island, Washington. Lomné has spent the last fifteen years exploring and developing her own unique style of the kiln casting technique, pate de verre. Lomne has exhibited her work nationally as well as participating in shows with The Kentucky Museum of Art and Design, The Museum of American Glass, Figgie Art Museum, National Liberty Museum, Berstrom Mahler Museum, and The Muskegon Museum of Art. For the last eleven years Lomné  has enthusiastically shared her knowledge through teaching. Lomne has taught at Pilchuck Glass School, Penland School of Crafts, Bullseye Glass and many Bullseye resource centers across the country, as well as traveling to Denmark, Switzerland, and Australia.

All levels, five days Price: $995  (Note:  No discount available on this class!)
10:00 to 4:30 first four days, 10:00 to 3:00 last day