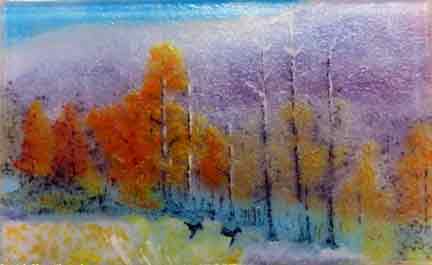 It's a Small World: Miniature Paintings in Powder
Friday, September 9 to Sunday, September 11, 2016
Instructor: Jody Danner Walker Walker
Glass powders aren't just for sifting. They can also be used to create vibrant scenes, portraits, and landscapes. This miniatures workshop focuses on how to use glass powders on multiple layers while still maintaining the desired shape and distinctive powder lines.
We'll work on a miniature scale, allowing us to focus on technique and design. The small size will allow students to work on a couple of different projects. Jody will also discuss and demonstrate a number of different powder application techniques.
Drawing ability is not required, but familiarity with glass cutting and basic kiln-forming techniques is essential. Previous experience with glass powders is definitely a plus. All materials are provided.
All levels, three days Price: $495
10:00 to 4:30 first two days, 10:00 to 3:00 last day