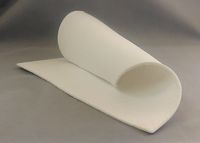 550 fiber paper -- a flexible fiber paper in 1/8" (3mm) thickness
This flexible paper can be used directly on the kiln shelf, as a dam lining material, for kiln carving, or in situations (like pocket vases) where a flexible paper is required.
550 paper is the standard, most popular fiber paper made. It is part of the Fiberfrax ceramic fiber paper line which is manufactured by Unifrax corporation.