Painting with Layers
Friday, October 11 to Sunday, October 13, 2017
Instructor: Jody Danner Walker
Take your enamel skills to the next level and learn to create paintings or designs on multiple layers. This workshop focuses on techniques that create additional depth in your painted pieces. Shading, composition, and color theory will all be covered.
Jody's secrets for firing and re-firing enamels will be covered, as well as approaches to damming, and schedules that will minimize bubbles and work every time.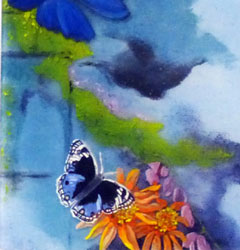 We'll work with Sunshine Enamels, a premium line of enamels made for painting.
Open to anyone with experience with firing enamels on glass. All materials are provided.
Three days Price: $495
10:00 to 4:30 first two days, 10:00 to 3:00 last day