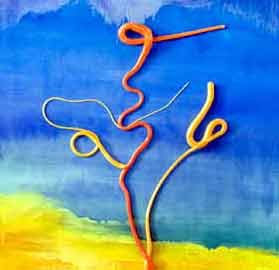 Making Vitrigraph Stringers
Wednesday, September 28, 2016
Instructor: Brad Walker
We'll use the vitrigraph kiln to create colorful vitrigraph stringers.  You'll learn the entire process, from selecting colors to loading the kiln to pulling and shaping the stringers, which can easily be incorporated in your fused pieces. No prerequisites or special skills required, just a desire to manipulate hot glass as it flows from the bottom of the vitrigraph kiln.
Best of all, you can make the stringers using scrap glass or small pieces of leftover glass sheet from other projects. We'll spend a full day creating stringers that will be yours to take home and use on future  warm glass projects. All materials provided, and the class is limited in size so that everyone will get ample time at the kilns we'll have set up.
Familiarity with glass cutting and with basic fusing and slumping techniques is recommended, but not essential. All materials will be provided.
All levels, one day Price: $95
10:00 to 4:30