Sunshine Enamels: Our Enamel of Choice 
Great for painting, screen printing, airbrushing, sifting and more.
Buy 5 or more enamels — save $1.00 per enamel
Buy 10 or more enamels — save $2.00 per enamel
Spend $200 after discount on your total order, get free shipping to US locations!

Wide range of firing temperatures.  The paint matures from 1240F to 1500F and can even be fired to blowing temperatures, if capped.
Unlimited Color palette. Use on their own or mix any colors together to increase your color palette.  Add white to create your own multitude of values
Bold colors. Sunshine enamels are bold whether you mix with a medium or sift directly on the glass. If you want a muted color, just add white. 
No compatibility issues. The enamels can be used with any glass
Extraordinarily versatile. Can be applied like a watercolor, acrylic, oil or sifted.  Use in any printmaking process, such as screen printing, stamps or block printing, monoprint, resist printing and airbrushing
Easily mixed.  Just use a palette knife or muller to mix the powder with the binder of your choice.
Multiple binder options.  We recommend A-14, which can be cleaned with water, but you can use squeegee oil, pine oil, clove oil, lavender oil, A-13, and more.
Won't dry out.  If you use A-14, you can leave your palette out overnight and come back to it the next day.  If needed, just add a few drops of the binder, mix for a second, and paint!
No waste.  Just mix the amount you need for your project, store the leftover in one of our containers and reconstitute at a later time.
Reds can be fired with other colors. No need to fire them separately.
Affordable.  A two ounce container costs about the same as a couple of square feet of the same color glass, yet it goes much, much, much further.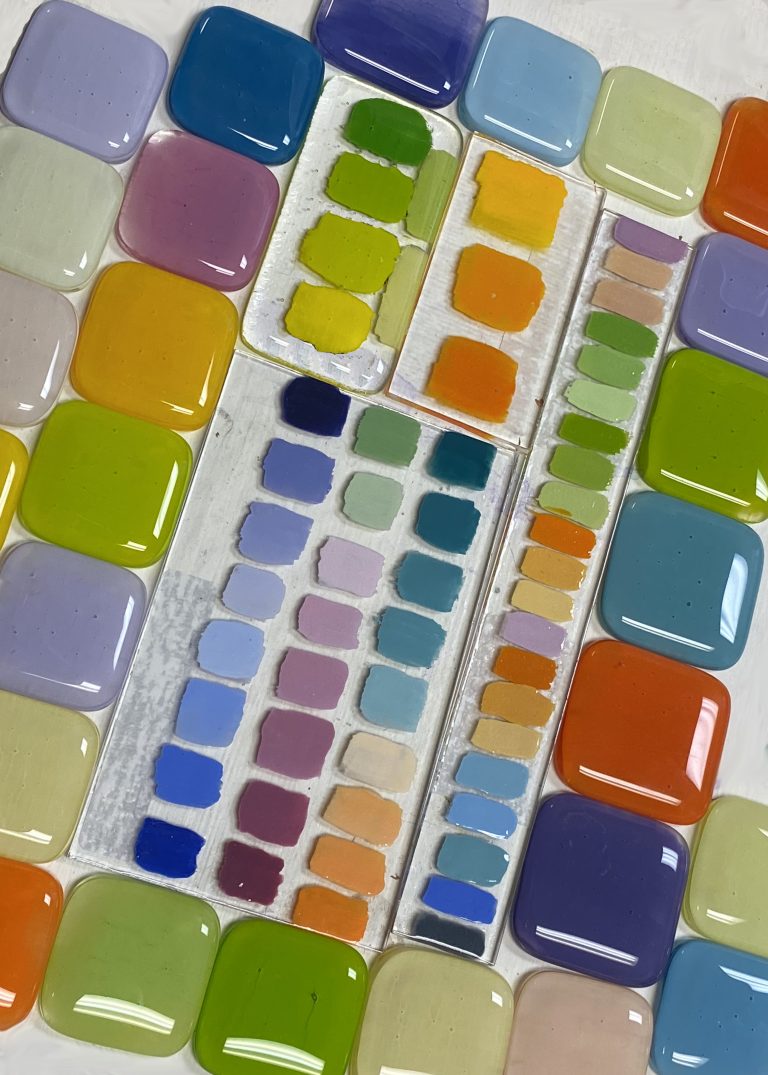 Creating your own colors with Sunshine Enamels