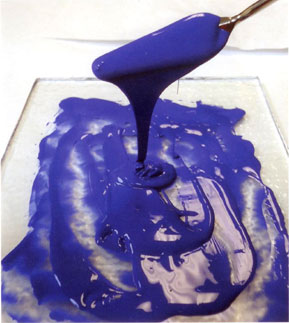 Pop-up Enamels
Wednesday, November 2, 2016
Instructor: Jody Danner Walker
Working with Sunshine enamels gives you a wealth of new color and design possibilities.  And best of all, you can work with any clear glass -- no need for expensive or hard to get colored glass.
Come to Warm Glass for a quick one day pop-up class on how to use Sunshine Enamels to make your work come alive.  
If you've been curious about glass enamels, but never given them a try, now's your chance to learn all you need to know to get started with mixing, painting, and firing enamels in your kiln.  No previous experience with painting is required -- all you need is a willingness to experiment and learn.  
Jody Danner Walker, author of Printmaking Techniques on Glass, will cover all the basics of working with powdered glass enamels.  We'll use Ferro's Sunshine enamels, available in a myriad of basic colors.  You'll learn to mix them properly, to combine colors to make new ones, to paint onto glass, and to fire them in the kiln so that they mature to their brilliant full potential. 
Open to anyone with basic fusing experience. No previous painting or drawing ability is required or necessary. All materials are provided and no prior experience is necessary.
One day: 
10:00 to 4:00 with a break for lunch
$175