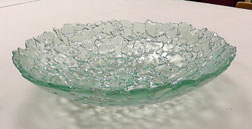 Fusing with Recycled Glass
Saturday, July 1 to Sunday, July 2, 2017
Instructor: Brad Walker
This workshop focuses on making sculptural pieces, architectural elements, and basic tableware from recycled glass. We'll use recycled window glass to create several different pieces, including textured glass panels and a slumped bowl made with tempered glass. We'll also explore techniques for coloring window glass, including using mica to create shimmering surfaces on the glass.
In addition to a discussion of the principles of working with glass in a kiln, we'll also discuss firing schedules, basic glass chemistry, and finishing techniques.
Familiarity with glass cutting and with basic fusing and slumping techniques is recommended, but not essential. All materials will be provided.
All levels, two days Price: $275
10:00 to 4:30 first day, 10:00 to 3:00 last day