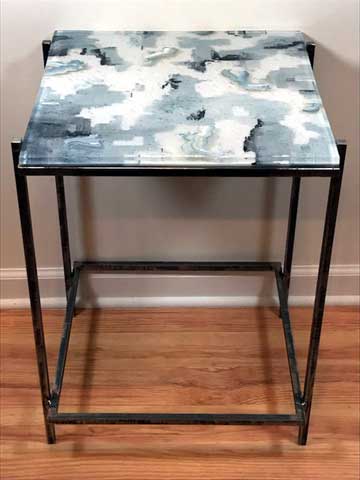 The Glass Table Top
Saturday, June 29 to Sunday, June 30, plus one day!
Instructors: Brad Walker and Jody Danner Walker
Everything you need to know to make your own unique glass table top. We'll discuss basic design concepts and several approaches to making thicker pieces.  Students will create two smaller designs to test their ideas, then construct and assemble a larger 16" to 18" square, 1/2" to 3/4" thick table top using what you learned.   Pieces will be fired in our kilns, then you'll return for a third day of your choosing for one-on-one instruction on coldworking your piece so that it's ready to show off and use.  A base for the table top will be included in the cost of the class.
The first two days of the class will be spent fabricating your pieces.  The final day of the class will be for coldworking on a day of your choosing when the large piece comes out of the kiln!  Just let us know what day works for you and we'll do our best to accommodate your schedule.
Familiarity with glass cutting and with basic fusing and slumping techniques is essential. All materials will be provided.
Class size strictly limited.
Three days     Price: $595
10:00 to 4:00 all three days