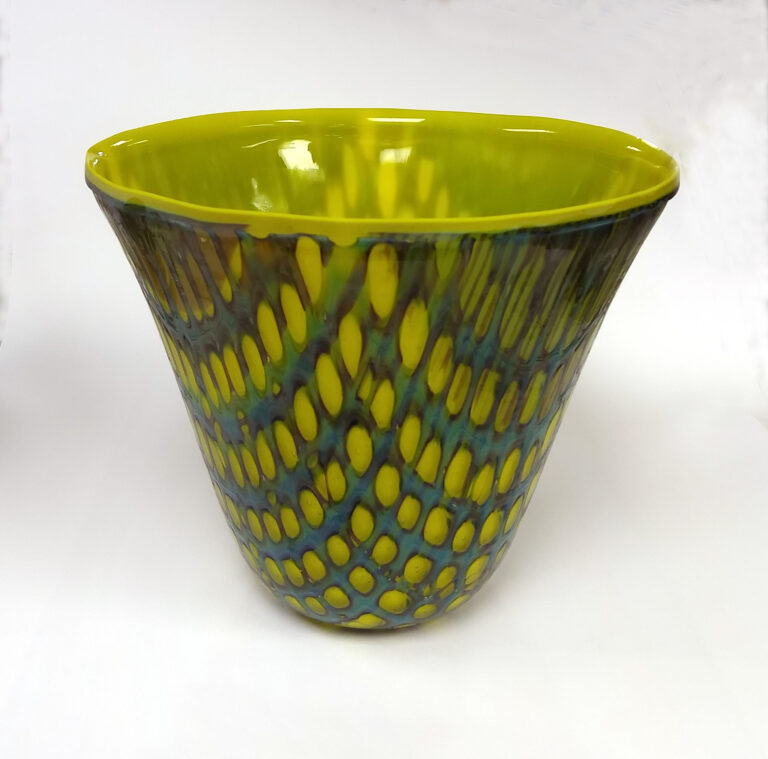 Here's a unique take on the drop formed vessel. We'll start by making bubble ups, in which glass is arranged and fired to create clear areas in a particular pattern. The resulting pieces have a series of round clear areas, spaced either in lines or randomly throughout. Then we'll use our bubble ups to create blanks to be dropped to form a vessel.
Students will create two different original pieces, using two different kinds of bubble up designs. You'll also make your own drop molds, which you'll be able to take home after the class.
Familiarity with glass cutting and with basic fusing and slumping techniques is highly recommended.
Four days Price: $550
10:00 to 4:30 first three days, 10:00 to 3:00 last day
We can set up any workshop, past or present, on request.  With your help we'll agree on a date for the workshop.
So long as we get two or more persons signed up, we'll hold the workshop for you.
And remember, if you and a friend sign up for a workshop together, you each get 10% off our regular workshop prices.
So what are you waiting for?  Set up the class of your dreams now. 
(And yes, we'll even set up a custom class for you if you prefer that to one of our regular ones!)
Please contact us to learn more or to set up a class.