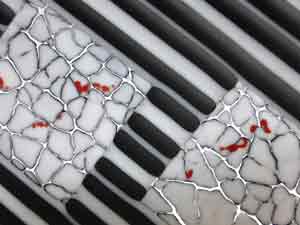 Create dramatic fused glass patterns and textures using our unique take on the crackle process. You'll learn the basics of the crackle process, then we'll combine our crackles with strip construction techniques to create different patterns and color combinations to help your glass pieces stand out from the crowd.
Familiarity with glass cutting and with basic fusing and slumping techniques is recommended, but not essential.
10:00 to 4:00 first day, 10:00 to 3:00 second day.
We can set up any workshop, past or present, on request.  With your help we'll agree on a date for the workshop.
So long as we get two or more persons signed up, we'll hold the workshop for you.
And remember, if you and a friend sign up for a workshop together, you each get 10% off our regular workshop prices.
So what are you waiting for?  Set up the class of your dreams now. 
(And yes, we'll even set up a custom class for you if you prefer that to one of our regular ones!)
Please contact us to learn more or to set up a class.