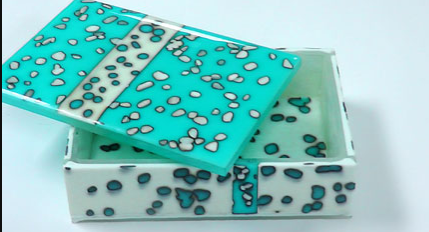 Learn to make distinctive fused glass boxes in a variety of shapes and sizes. We'll cover both basic rectangular boxes and more complex shapes like circles and ovals.
By the end of the course you'll have made at least three boxes using two different methods. You'll learn to make lids for your boxes using two different approaches.  And you'll leave with boxes, lids, instructions, and firing schedules for making even more.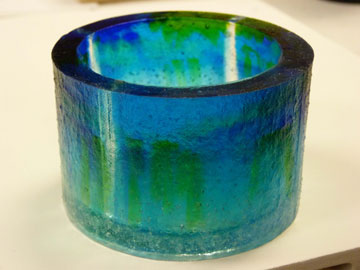 In addition to basic squares, rectangles, and circles, students have designed and created a wealth of unique, personal shapes, such as ovals, hearts, butterflies, stars, abstract designs, hexagons, and more.  
Comfort with glass cutting and with basic fusing and slumping techniques is essential. All materials will be provided.
All levels, three days, 
10:00 to 4:30 first two days, 10:00 to 3:00 last day
We can set up any workshop, past or present, on request.  With your help we'll agree on a date for the workshop.
So long as we get two or more persons signed up, we'll hold the workshop for you.
And remember, if you and a friend sign up for a workshop together, you each get 10% off our regular workshop prices.
So what are you waiting for?  Set up the class of your dreams now. 
(And yes, we'll even set up a custom class for you if you prefer that to one of our regular ones!)
Please contact us to learn more or to set up a class.