Fusing with Recycled Glass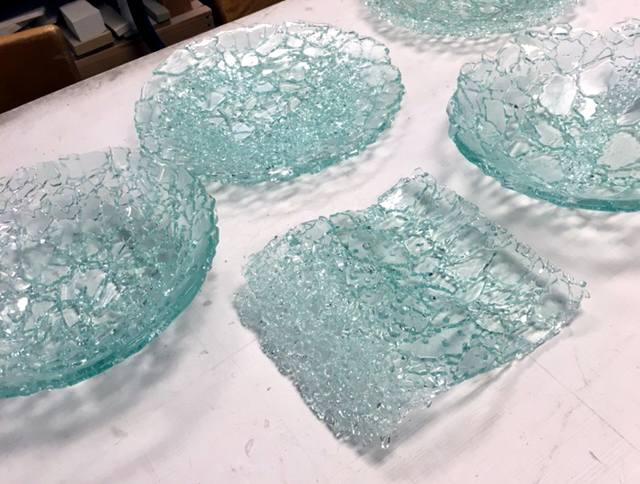 Yes, it's possible to fuse with glass that isn't specifically made for fusing.
This workshop focuses on ways to fuse using glass found in dumpsters, taken from old windows, or purchased inexpensively at a hardware or used office supply store. In addition to an overview of the types of glass that can be used, we'll complete three different projects.
• We'll create a bowl with tempered glass. This project focuses on how to tell tempered glass from regular glass and how to fuse and slump it in the kiln.
• We'll learn about the different characteristics of the tin and air sides of float (window) glass and explore metal reactions with the two different sides.
• We'll cover the basics of working with glass bottles, from slumping to adding color.
• And we'll use mica to paint on sheet glass. Mica is available in a wide variety of brilliant silvers, golds, and bronzes. In addition to painting, it can be used to add color to recycled glass.
Familiarity with glass cutting and with basic fusing and slumping techniques is recommended, but not essential. All materials will be provided.
10:00 to 4:30 first day, 10:00 to 3:00 last day
All materials included
We can set up any workshop, past or present, on request.  With your help we'll agree on a date for the workshop.
So long as we get two or more persons signed up, we'll hold the workshop for you.
And remember, if you and a friend sign up for a workshop together, you each get 10% off our regular workshop prices.
So what are you waiting for?  Set up the class of your dreams now. 
(And yes, we'll even set up a custom class for you if you prefer that to one of our regular ones!)
Please contact us to learn more or to set up a class.