Introduction to Fusing and Slumping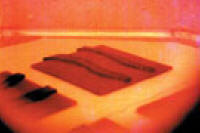 Whether you're a beginner or just need a refresher, this is the workshop for you!  We'll cover all the basics in two intensive days.
Learn how to cut, fuse, and slump glass in the kiln.  When you leave, you'll know everything you need to know to get started fusing glass.
In addition to the basics, topics covered include will include kiln and mold preparation, glass selection, project design, firing schedules, types of kilns, annealing, and compatibility testing. Students will make several small coasters/tiles or jewelry pieces and one larger slumped bowl or similar shape.
Just $195 for both days.  All materials and tools provided, no experience necessary, but familiarity with glass cutting is helpful.
10:00 to 4:00 first day, 10:00 to 3:00 the second day.
We can set up any workshop, past or present, on request.  With your help we'll agree on a date for the workshop.
So long as we get two or more persons signed up, we'll hold the workshop for you.
And remember, if you and a friend sign up for a workshop together, you each get 10% off our regular workshop prices.
So what are you waiting for?  Set up the class of your dreams now. 
(And yes, we'll even set up a custom class for you if you prefer that to one of our regular ones!)
Please contact us to learn more or to set up a class.