Murrini Making with the Vitrigraph Kiln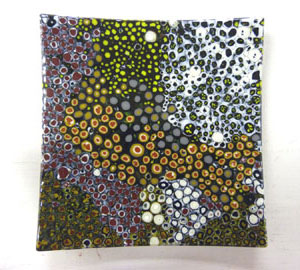 Ever wanted to make murrini, but didn't have access to a glory hole or a beadmaking torch? Well, here's your chance to learn to use the vitrigraph kiln to create cane and murrini that can easily be incorporated in your fused pieces.
No prerequisites or special skills required, just a desire to manipulate hot glass as it flows from the vitrigraph kiln.
Best of all, you can make the murrini using scrap glass or small pieces of leftover glass sheet from other projects. We'll spend our two days creating several different types of murrini that can be assembled immediately into your warm glass projects. All materials provided, and the class is limited to six persons so that everyone will get ample time at the three vitrigraph kilns we'll have set up.
Familiarity with glass cutting and with basic fusing and slumping techniques is recommended, but not essential. All materials will be provided.
All levels, two days
10:00 to 4:30 first day, 10:00 to 3:00 last day
We can set up any workshop, past or present, on request.  With your help we'll agree on a date for the workshop.
So long as we get two or more persons signed up, we'll hold the workshop for you.
And remember, if you and a friend sign up for a workshop together, you each get 10% off our regular workshop prices.
So what are you waiting for?  Set up the class of your dreams now. 
(And yes, we'll even set up a custom class for you if you prefer that to one of our regular ones!)
Please contact us to learn more or to set up a class.