Instructor:  Jody Danner Walker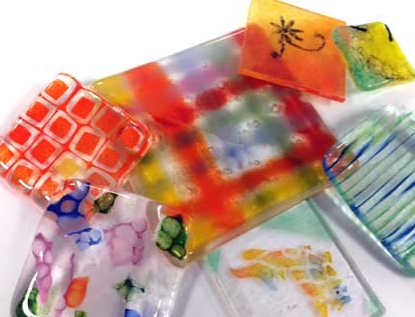 OK, so you know how to sift powders. But what comes next?
This class gives you all you need to know to use glass powders to create unique and personal design elements. We'll cover over thirty different techniques for designing, shading, creating texture, and drawing with glass powders. Powder wafer will also be demonstrated, as well as many other ways achieving painterly effects in glass.
Familiarity with glass cutting and with basic fusing and slumping techniques is helpful. All materials will be provided.
All levels, two days 
10:00 to 4:00 first day, 10:00 to 1:00 last day
We can set up any workshop, past or present, on request.  With your help we'll agree on a date for the workshop.
So long as we get two or more persons signed up, we'll hold the workshop for you.
And remember, if you and a friend sign up for a workshop together, you each get 10% off our regular workshop prices.
So what are you waiting for?  Set up the class of your dreams now. 
(And yes, we'll even set up a custom class for you if you prefer that to one of our regular ones!)
Please contact us to learn more or to set up a class.