Some Like It Hot: Combing and More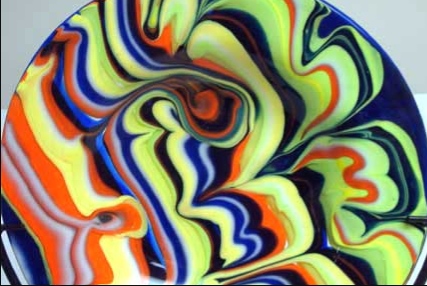 Combing, or manipulating molten glass in the kiln, is one of the most exciting kiln processes.
We'll learn how to do it safely, with the goal of creating and completing a large combed platter like the one at left. We'll also try our hand at a high temperature melts such as pot and wire melts.
Here's a perfect opportunity to learn about high temperature firing in a safe, secure environment. In addition to getting the chance to reach inside the kiln and manipulate molten glass, we'll also learn about finishing our pieces and taking them from flat blank to final work of art.
Familiarity with glass cutting and with basic fusing and slumping techniques is recommended, but not essential. All materials will be provided.
All levels, two days 
10:00 to 4:30 first day, 10:00 to 3:00 last day
We can set up any workshop, past or present, on request.  With your help we'll agree on a date for the workshop.
So long as we get two or more persons signed up, we'll hold the workshop for you.
And remember, if you and a friend sign up for a workshop together, you each get 10% off our regular workshop prices.
So what are you waiting for?  Set up the class of your dreams now. 
(And yes, we'll even set up a custom class for you if you prefer that to one of our regular ones!)
Please contact us to learn more or to set up a class.