The Glass Table Top (and/or Bird Bath or Sink)
Instructors:  Brad Walker & Jody Danner Walker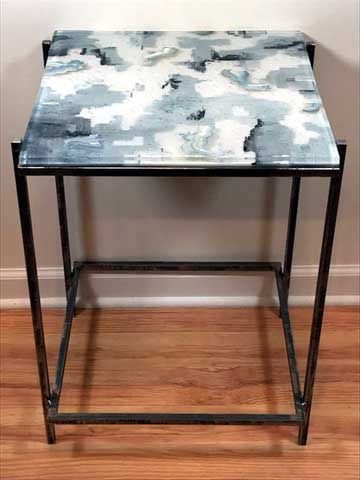 Everything you need to know to make your own unique glass table top, bird bath, or sink.
We'll discuss basic design concepts and several approaches to making thicker pieces. Students will create two smaller designs to test their ideas, then construct and assemble a larger 16″ to 18″ square or circle, 1/2″ to 3/4″ thick table top using what you learned.
Pieces will be fired in our kilns, then you'll return for a third day of your choosing for one-on-one instruction on coldworking your piece so that it's ready to show off and use.
The cost of the class includes a base for the table top OR slumping for the sink or bird bath.
The first two days of the class will be spent fabricating your pieces. The final day of the class will be for coldworking on a day of your choosing when the large piece comes out of the kiln! Just let us know what day works for you and we'll do our best to accommodate your schedule. If you want to make a sink, we can make suggestions on places that can drill the hole.
Familiarity with glass cutting and with basic fusing and slumping techniques is essential. All materials will be provided.
Class size strictly limited.
10:00 to 4:00 all three days
We can set up any workshop, past or present, on request.  With your help we'll agree on a date for the workshop.
So long as we get two or more persons signed up, we'll hold the workshop for you.
And remember, if you and a friend sign up for a workshop together, you each get 10% off our regular workshop prices.
So what are you waiting for?  Set up the class of your dreams now. 
(And yes, we'll even set up a custom class for you if you prefer that to one of our regular ones!)
Please contact us to learn more or to set up a class.